Yes absolutely!  We will set up a bespoke management dashboard and app that provides you with instant access to results as well as highlighting areas that require action.  This will be available on your desktop and also available on your mobile device via the dedicated reporting app which is included free of charge for all our clients.  This is customised to you so by understanding your needs, we will configure the various functions so that the system is fully optimised for you.  Most functions within the dashboard have drill down functionality and this is complimented by our 'Pulse' reporting function.
For example, if you look at your overall company result and click on Pulse the system will show you which questions have performed the poorest for the company overall, how many points that has lost the company and what the result would be IF these issues were address.  The Pulse screen also shows you the lowest scoring locations within the company and what impact they had on overall score.  OK, so that's pretty good.  BUT, if you drill down one level from company to area and then click on your area, you pull up the Pulse screen for your area too.  So, if you're heading into a meeting and you need a summary for your area to present to the boss, two clicks and you have it!
You will be fully supported in the use of the management reporting tools via your account manager who provides telephone, email and screenshare support throughout.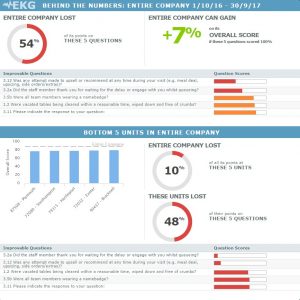 Click for more information on our reporting platform